| | |
| --- | --- |
| <![if !vml]><![endif]> | |
Dinosaur Bones in the Living Room
Free Press Reporters Visit One of Madison's Best (but little known) Museums
by Pallav Regmi, age 14
<![if !vml]>
<![endif]>
Recently, fellow reporters Rosalinda, Patricia, Alexis, Aarushi, Claire and I visited a museum rich in ancient fossils and animal artifacts. Unlike other museums, this one was located cozily between the kitchen and living room of David Wandel's house.
David Wandel, an active member of the Madison community, has an adventurous spirit. He has a collection of many ancient fossils and dinosaur bones that he collected on his own.
"Who doesn't love dinosaurs?" he asked us, rhetorically. As we sat around his kitchen table, munching on snacks his wife had graciously prepared for us, we carefully listened to the story of Wandel's Paleontology hobby. This is one fascinating guy.
One day while driving in Chicago, he saw a logo on the side of a truck displaying a triceratops head with the words, "Paleo Prospectors" above it. Underneath, there was a phone number. Curious, Wandel called the number right away. He found out that Paleo Prospectors was a company that took ordinary people to a place in the northern Great Plains to hunt dinosaur bones. Excited about hunting bones, he decided to sign up.
Soon, Wandel and his kids were excavating bones in South Dakota.
"You leave with a bag full of water bottles and if you're lucky, you return with a bag of bones," Wandel said.
The water bottles were very important because the land they were excavating was very dry. The temperature reached up to 110 degrees on a normal summer day and everyone bunked in the only motel in a small town near Buffalo, South Dakota.
Wandel explained that excavation can be very hard work. The work consists of a lot of bending over and digging here and there. The hot weather also added to the hard work and the motel wasn't very luxurious either.
Because of Paleo Prospectors, M. Wandel has a big collection of dinosaur bones. Wandel even has a rib of a triceratops that he and his kids excavated. He also found the femur of a triceratops, which was very heavy and a lot bigger than that of a human.
His most memorable find was when he found an articulated animal. Typically one finds fossils of single bones, usually from different animals. But when someone finds a fossil that is connected to other bones of the same skeleton, they know they have uncovered an articulated animal.
And if you do find an articulated animal, well, that is a big deal. Wandel explained that when this happens, you immediately stop digging and call a chaperone from the company on a radio. All the members of the dig then arrive at the site as swiftly as possible. If experts determine the fossil is an articulated animal, digging at the site is halted. Certified archaeologists further investigate the site later. In Wandel's case, the articulated animal he discovered was a triceratops. Listening to Wandel's stories about his excavations was really interesting and fun. We also learned a lot about fossils and dinosaur bones and how archaeologists dig and preserve bones without damaging them. Even after we finished talking about fossils and bones, we were still very interested in Wandel's other hobbies. He has a collection of paintings and woodcarvings from all around the world and some that he constructed himself. A very adventurous and curious collector, Wandel built a fascinating museum from scratch.
On the way back to our newsroom we talked a lot about how to write this story. Our editors often tell us to use words that are descriptive so readers get a good feel for what we're talking about. We decided that the best word to describe Mr. Wandel is curious. And that's why the museum he has put together is absolutely fascinating.
This is an awesome story! like seriously good job Regmi! :) – Julio Martinez, Bloit WI (2012-10-04 11:54)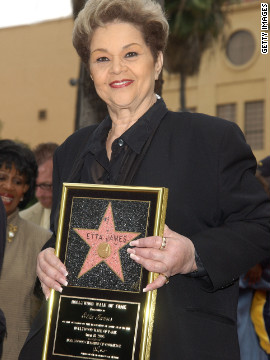 Etta James
Doug Moe: Singer Etta James lived by her own rules
January 27, 2012 6:00 am
One of the last times Etta James played Madison, maybe the last time, June 2002, she was 20 minutes late taking the stage at the Barrymore.
James, who died last Friday at 73, was a supremely talented and versatile singer who could handle blues, jazz, rock and pop with equal ease. Her New York Times obituary quoted a Times critic saying James had "one of the great voices in American popular music."
She was also a formidable presence who lived by her own rules.
On that 2002 Madison visit, James' tour bus stopped at New Orleans Take Out on Fordem Avenue. James remained on the bus, and owner John Roussos took out some food to her. She had health issues that made pralines a bad idea, but the singer wanted pralines, and Roussos brought pralines.
"I felt guilty," Roussos was saying this week. "But what are you going to say to Etta James?"
My favorite James story — it touches on timeliness and rules — comes courtesy of David Wandel, a Madison business and nonprofit consultant who in 1989 was living in St. Louis and consulting for Contemporary Productions, which produced concerts and other events out of its St. Louis office.
Wandel, 66, who is originally from Chicago, moved from Missouri to Madison with his wife, Mary, in the late 1990s.
In 1989, the couple was in St. Louis. Wandel had just begun consulting with Contemporary, which had booked Etta James into the Westport Playhouse for an Oct. 14 show.
Wandel was in the audience for the show, which began with a comedian who told jokes, got a nice round of applause and exited the stage. A few minutes later, however, he was back. He said the theater was experiencing technical difficulties, and he told more jokes.
The audience began rustling and calling for James. Wandel left his seat and sought out the woman from Contemporary Productions who was in charge of the evening.
She explained that the Contemporary vice president who was supposed to have arrived at the theater with $5,000 in cash for James and her band was nowhere to be found.
James, in a downstairs dressing room, was declining to take the stage without getting paid first.
It developed that the Contemporary man with the cash had been traveling and returned to St. Louis that day to find himself locked out of his house. The cash was inside. The man decided to try to go in a window. Instead, he fell off the sill and knocked himself unconscious.
"He turned out to be OK," Wandel noted, "with a slight concussion."
But he wasn't going to be at the Westport Playhouse with $5,000 anytime soon. Neither could anyone reach the two men who founded and owned Contemporary Productions.
Wandel made a quick visit to the dressing room, where it was confirmed that James and her band would not go on without the money up front.
Back upstairs, he asked the woman in charge if she thought the theater had $5,000 on hand from ticket and concession sales.
"I don't know," she said. "A lot of the tickets were sold in advance."
She was also not inclined to hand it over to Wandel without permission from the Contemporary owners.
Wandel recalled, "I said, 'I'll sign a note for $5,000 and give it to you.' Which is what happened. I literally wrote out an IOU."
They began to gather cash from the night's food, drink and ticket sales. When they reached $5,000 — without much to spare — Wandel stuffed it into a paper bag and went back downstairs.
Inside the dressing room, James was in full recline on a couch. The band sat on chairs. Wandel handed her the bag. "Five thousand dollars," he said.
James laughed and handed it to one of the band. "Count it," she said.
The show was already more than an hour late. Wandel reminded the singer that she had always been treated fairly by Contemporary in the past.
James said, "You are a nice white boy. I have been cheated and stiffed as a black artist so many times for so many years, I get paid up front. We will count the money."
They separated the bills in piles by denomination. It was $5,000.
"Let's play," James said.
"And she was great," Wandel recalled this week. He handed over a framed faded news clipping, a review, from the St. Louis Post-Dispatch. Wandel still keeps it on his desk.
"Etta James In Top Form After Getting Late Start," the headline read.
She sang well, too.
Contact Doug Moe at 608-252-6446 or dmoe@madison.com.

Read more: http://host.madison.com/news/local/doug_moe/doug-moe-singer-etta-james-lived-by-her-own-rules/article_6a64fa24-486e-11e1-9315-001871e3ce6c.html#ixzz2K8rNJVM0